Running Tech Support in a DevOps way

What do you imagine when hearing the "tech support" term? I bet you think about people in headphones drinking litres of coffee and constantly saying something like, "have you tried turning it off and on again."
Indeed, tech support refers to helping deal with specific issues customers face while using a product or a service.
But there are also support engineers who struggle in the shadows – they cover internal systems monitoring and infrastructure stability to deliver an excellent user experience. And let me focus on this invisible side of tech support further on.
So, here go three common tech support types – managed services, pre-paid hours, and the in-house team.
+ Managed Services
It's an ultimate scope of possible services that also determines recovery time, communication channels, response time, and the type of monitoring. As a rule, one receives services on an ongoing basis for a fixed price. 
+ Pre-Paid Hours
Pre-paid hours mean buying support in advance and using them on demand. One can purchase a month or a year of support services and benefit from this option's flexibility. 
+ In-House Team
The term encompasses a department within an organization responsible for support. In-house teams are present practically in every product company, combining help with services.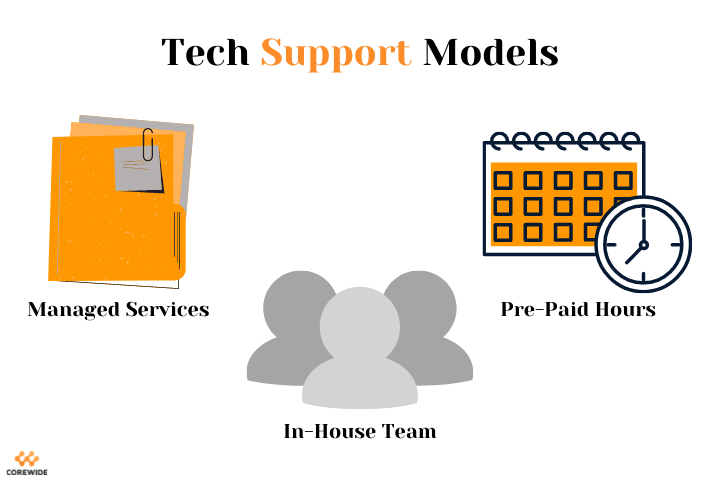 Traditional VS DevOps Support
A recent survey proves that bringing DevOps principles into IT teams dramatically improves service quality, team spirit, customer satisfaction, and business efficiency.
While traditional organizations are often siloed, with the development and support teams working separately, DevOps-oriented companies, on the other hand, prioritize collaboration and cross-team communication. 
Sharing goals, plans, or analytics across departments helps everyone get a clear picture of the current state of things and brings tech support to a brand new level.
When traditional IT support focuses on strict and standard workflows, DevOps support teams tend to automate everything they can. 
Automation allows improving metrics by moving tickets through the service desk faster or escalating a problem to a group instead of a single person. And innovative service management tools automatically surface relevant documentation when an incident happens.
Think about metrics. As a rule, teams decide what metrics to track individually – and sometimes, they refuse any metrics at all. Meantime, the DevOps mindset emphasises the importance of analytics. 
The typical metrics support engineers should monitor include:
+ MTTR (mean time to recovery or respond)
+ MTTF (mean time to failure)
+ Service level targets
+ Costs per incident
+ Number of repeated issues
+ Total costs for support
Proper tooling is essential for running support in a DevOps way. Set up a monitoring system, consider desktop virtualisation software, and don't forget about the incident management systems.
The DevOps mindset perfectly overlaps with the traditional technical support giving maximum business efficiency when used together.
Benefits for Business 
You must have already highlighted several advantages the DevOps mindset brings. Check this article to see how it can influence your entire company, not only the support department.
Getting back to benefits for businesses, let's gather them in one list.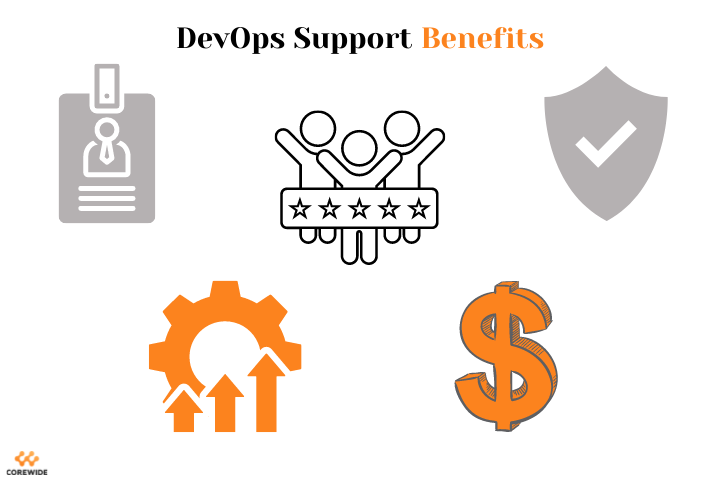 + Superior client experience (why else bring innovations to traditional tech support!)
+ Improved efficiency (and faster development pace, therefore)
+ Enhanced security (only support engineers have access to critical data)
+ Better employee experience (less stress and manual work – HumanOps in all its glory)
+ Competitive advantage (cutting-edge technologies for employees and outstanding continuous tech support for clients)
+ Cost-effectiveness (increased ROI and extra budget – an entrepreneur's dream)
Summary
Since most businesses have gone digital, professional tech support is a must for today's companies. Tech support aims to deliver better products and services to ensure as many happy customers as possible. And mixing traditional ideas with the DevOps approach gives a definite competitive advantage besides internal business benefits.
At Corewide, we offer DevOps-level support services by providing an SRE team and a variety of customisable subscription options.